Toyota Land Cruiser HJ 200
Camping: 2-4 pax, 1-2 roof tents
High End Four Wheel Drive with comfort and luxury
The Toyota Land Cruiser HJ 200 is the ideal rental vehicle for self-drivers who prefer an experience with more comfort and luxury. High ground clearance and better tyres offer a comfortable driving experience and a better vantage point for animal viewing. The vehicle has permanent 4×4, while the centre diff lock and low-range gear can be engaged additionally. It is suitable for 4 to 5 Persons and can be driven on all kinds of roads and terrains in Namibia/Southern Africa – hardly any other vehicle handles sand and gravel better than a Land Cruiser.
Rack Rates 2023
LOW SEASON 15/01/2023 - 20/03/2023
HIGH SEASON 21/03/2023 - 14/01/2024
DAILY RENTAL FEE
06 - 14 days of rental
N$ 2,340.00 (2 Pax)
N$ 2,400.00 (4 Pax)
N$ 2,770.00 (2 Pax)
N$ 2,810.00 (4 Pax)
DAILY RENTAL FEE
15 - 21 days of rental
N$ 2,290.00 (2 Pax)
N$ 2,350.00 (4 Pax)
N$ 2,720.00 (2 Pax)
N$ 2,760.00 (4 Pax)
DAILY RENTAL FEE
22 + days of rental
N$ 2,240.00 (2 Pax)
N$ 2,300.00 (4 Pax)
N$ 2,670.00 (2 Pax)
N$ 2,710.00 (4 Pax)
EXCESS
N$ 55,000.00
N$ 55,000.00
EXCESS OPTIONS
SEC1/day: N$ 400.00 / N$ 25,000.00
SEC2/day: N$ 450.00 / N$ 2,000.00
SEC1/day: N$ 400.00 / N$ 25,000.00
SEC2/day: N$ 450.00 / N$ 2,000.00
Specifications
Automatic transmission
4-wheel drive
ABS
Airbags
5-doors
130l diesel tank
Power steering
Air conditioner
Radio, USB port
GPS
Cruise control
Starter cable, tow rope, warning triangle, reflective jacket
Fire extinguisher
2 spare wheels
Vehicle jack and wheel spanner
Tyre compressor
Spade, dustpan with broom
Standard Camping Equipment
Example for two people:
(Of course, the camping equipment is put together depending on the number of travelers)
1 x roof tent
2 x pillows
2 x pillow cases
1 x bed sheet
2 x sleeping bags
1 x mattress
2 x soup plates
2 x plates
2 x pots
1 x pan
1 x kettle

1 x washing-up bowl
1 x tea towel & Tablecloth
1 x cutting board
3 x Tupperware
2 cups each & Glasses each
2 knives, forks, spoons, and teaspoons each
1 x grill cutlery
1 x soup ladle
1 x wooden spoon
1 large & small knife each
1 x potato peeler

1 x can opener
1 x bottle opener
1 x Salt & Pepper shaker
1 x 25 L water can
1 x neon lamp (batteries)
1 x barbecue grid
2 x folding chairs
1 x folding table
1 x 3 kg gas bottle
1 x cooker top
1 x 12 V refrigerator
Insurance & Deductible
The accident and liability insurance covers damage as well as the loss of the vehicle and damage to property of third parties, however goods and persons in the vehicles are not insured. A deductible is due in the event of damage. Costs for towing service, sandstorm and water damage as well as damage to the vehicle underbody are not covered. 
Super excess cover (SEC 1 & 2) with protection against glass and tire damage:
Deductibles and liability can be reduced for an additional daily fee. In addition, glass, tire and third-party damage are covered. The vehicle renter / driver only has to participate in damage caused by himself / herself. This insurance option can only be used for six or more rental days.
This insurance can only be used if the rental period is at least 6 or more days.
In the case of damage that can be traced back to negligence, there is no insurance coverage and the respective vehicle renter / driver must pay the full amount of the damage.
Terms & Conditions
Related Vehicles + Camping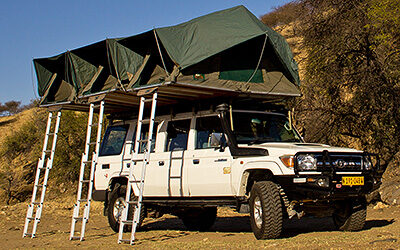 Toyota Land Cruiser HJ 76Toyota Land Cruiser HJ...
Africa on Wheels Newsletter
Exclusive Access for offers and Promotions