Africa on Wheels welcomes you to Namibia!

Namibia's road network is known as one of the best in Africa, where all the main roads are tarred. The majority of the roads are, however, sand and gravel roads. For this reason we advice all self-drivers to hire a 4×4. With a better ground clearance these vehicles offer a more comfortable driving experience, even on poor roads.

Africa on Wheels offers the following services:
For any problems on the road we offer our 24-hour Africa on Wheels Car Hire breakdown service.
Personal instructions on handling the four-wheel drive and the respective equipment.
Value for money and effective motor vehicle insurances, such as "Super Excess Cover", where glass and tyre damages and contribution reduction are included.
All four-wheel drive vehicles are fitted with 2 spare tyres and a double volume fuel tank.
Next to the regular camping gear, the following can be requested: roof tents, ground tents, storing boxes, plastic cooler boxes, fuel canisters, water canisters, 12 volt compressors, tables, chairs, sleeping bags, 12 volt fridges, as well as GPS navigation systems and much more.
We will gladly give you tips for your tour.
Free transfers (max 2 transfers): Transfer from and to the airport in Windhoek. The tranfer after the vehicle is returned takes place at times stipulated by us.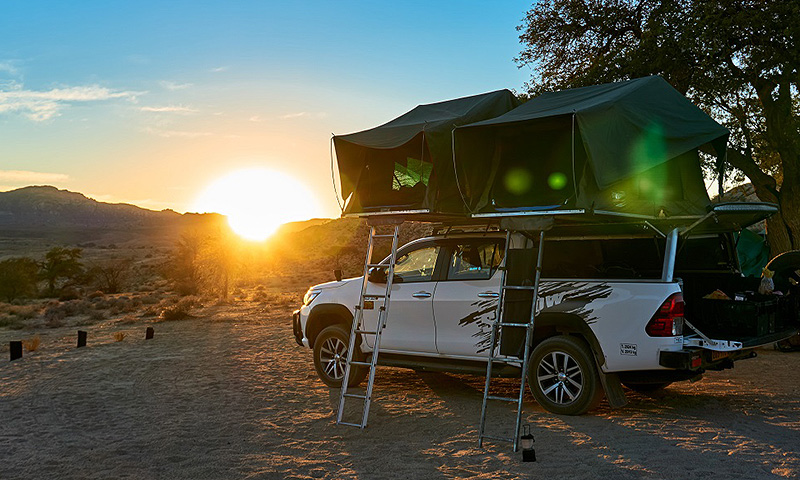 Our top priority is to offer you the best service, in order for you to enjoy your holiday!
You can be sure to finish your trip even after a breakdown or an accident. Our motor vehicle insurance is one of the biggest and best known in southern Africa. We offer three insurance packages with different excess options to ensure that you can avoid any unpleasant surprises during your holiday. We are happy to explain the different insurance options to you. Our vehicles are allowed to drive in Namibia, South Africa, Zambia, Botswana, Malawi, Zimbabwe and Tanzania.
Africa on Wheels Car Rental offers the following extra services: Our vehicles are fixed with route loggers which record your travel route through Namibia and our neighboring countries. We offer this tracking data and a complimenting merging program free of charge. Using Google Earth you are able to create an interactive photo album using your travel route and photos. This presents the perfect holiday memories for you, your family and friends. Should this be something you might be interested in, please request this when hiring our vehicle.
Africa on Wheels and mobilianz GmbH decided on a joint cooperation at the International Tourism FAIR ITB 2018 in Berlin. A specially tailored off-road training for the individual traveller and self-driver has been developed which works as the ideal preparation for experiencing southern Africa on your own.


Africa on Wheels Newsletter
Exclusive Access for offers and Promotions