Camping: 2 pax, 1 roof tent
Luxury 4×4 Hire in Namibia
Like all other vehicles in its class, the Toyota Fortuner has outstanding performance when driving on sand and gravel roads, and is well equipped to handle challenging off-road terrain. This SUV has a 2.8l Diesel engine, and higher ground clearance as well as better tyres ensure a comfortable driving experience and offer a better vantage point for animal viewing – a wonderful choice if you enjoy a touch of luxury and comfort.
The Fortuner 4×4 is suitable for dune driving in the Namib Desert or for tours to Angola (only allowed with written permission from Africa on Wheels; different rates and conditions apply – please contact us).
Rack Rates 2021
Standard Season 01/01/2021 - 31/12/2021
DAILY RENTAL FEE
01 - 07 days of rental
N$ 2,200.00
N$ 2,290.00 (+ Camping equipment: 2 Pax)
DAILY RENTAL FEE
08 - 14 days of rental
N$ 2,150.00
N$ 2,240.00 (+ Camping equipment: 2 Pax)
DAILY RENTAL FEE
15 - 21 days of rental
N$ 2,100.00
N$ 2,190.00 (+ Camping equipment: 2 Pax)
DAILY RENTAL FEE
22 + days of rental
N$ 2,050.00
N$ 2,140.00 (+ Camping equipment: 2 Pax)
EXCESS
N$ 45,000.00
N$ 50,000.00 (+ Camping equipment: 2 Pax)
EXCESS OPTIONS
SEC1: N$ 400.00 / N$ 20,000.00
SEC1: N$ 410.00 / N$ 25,000.00 (+ Camping equipment: 2 Pax)
Specifications
Automatic transmission
4-wheel drive
ABS
Airbags
Difflock
5-doors
80l diesel tank
Power steering
Air conditioner
Radio, USB port
Cruise control
Starter cable, tow rope, warning triangle, reflective jacket
Fire extinguisher
2 spare wheels
Vehicle jack and wheel spanner
Tyre compressor
Spade, dustpan with broom
Specific Modifications
Large bull bar
At the back two spare tire holders for two reasons: Better comfort when changing a tyre and higher ground clearance for driving in difficult terrain
Additional higher ground clearance because of special 4×4 vehicle suspension
Better and larged tyres with special 4×4 tyre pattern
Roof rack
Extra large additional tank
Extra equipment for dune driving (water, …)
Standard Camping Equipment
Example for 2 people:
(Naturally we can equip your camping gear according to the number of travellers)
1 x roof tent
2 x pillows
2 x pillow sheet
1 x bed sheet
2 x sleeping bags
1 x mattress
2 x soup bowls
2 x plates
2 x pots
1 x pan
1 x water kettle

1 x dishwashing basin
1 x dish cloth & 1 x table cloth
1 x cutting board
3 x tupperware container
each 2 x mugs & glasses
each 2 x forks, knives, spoons, teaspoons
1 x grill set
1 x soup ladle
1 x cooking spoon
1 x big & 1 x small cutting knife
1 x potato peeler

1x tin opener
1 x cork screw
1 x salt & pepper shaker
1 x 25 l water can
1 x neon glow lamp (rechargeable)
1 x Grill Grid
2 x folding chairs
1 x folding table
1 x 3 kg gas bottle
1 x gas cooker top
1 x 12 V fridge
Insurance & Excess options
The vehicle is insured in terms of provisions of the Motor Vehicle Insurance Act for loss and damage to the vehicle and damage to property of third parties but excluding goods and persons conveyed in the vehicle. All Damages have to be paid up to the Excess amount - for self-caused or not self-caused Damages. Glass and tyre damages are not covered.
Reduced excess waiver (REW) excluding glass and tyre damages:
For an additional daily fee the excess amount is reduced. The lessee/driver is liable up to the excess amount for all damages to the vehicle- for self-caused or not self-caused damages, including the damage incurred by others (third party). Glass - and Tyre Damages are not covered.
Super Excess Cover (SEC 1 & 2) including glass and tyre damages:
For a daily fee the excess amount is reduced and liability limited. Next to the reduction of the excess, the insurance includes the glass and tyre insurance, as well as damage by a third party. The lessee/driver is only liable for self-inflicted damage for up to the full excess amount.
This cover can only be taken if the rental period is at least 6 or more days.
Any insurance ceases for damages obtained due to negligence and the lessee/driver will be liable for the full damage amount. The insurance does not cover tow-In costs, water and sandstorm damages or damages to the vehicles undercarriage.
Terms & Conditions
Related Vehicles + Camping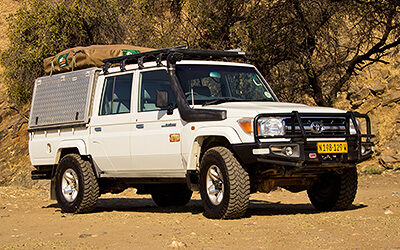 Toyota Land Cruiser HJ 79For the more...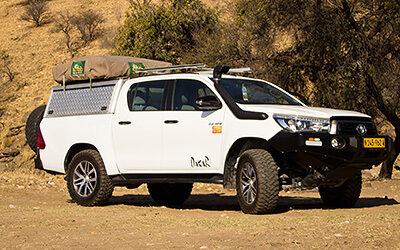 Toyota HiluxMost popular 4×4 rental car in...
Africa on Wheels Newsletter
Exclusive Access for offers and Promotions